Dear TV Guide:
Wow, did you ever miss the mark in naming Elvis Presley "Entertainer of the Century" [cover issue dated January 1 - 7, 2000]. Hands down, Frank Sinatra is, unequivocally, THE ENTERTAINER OF THE CENTURY! He was placed number 5 on your list in error.
Arguably, as subjective as these things are, let's put some objective measures on the table. Specifically, the impact the entertainer had/has on: (1) individual artistry; (2) music; (3) film; (4) dance; (5) his/her own personal evolution; (6) the business of entertainment; (7) society; and (8) legacy. With these categories we can summarily dismiss entertainers TV Guide rated higher than Frank Sinatra:
Listed #2 - Marilyn Monroe
Monroe's single greatest impact is her sexuality. Otherwise, she only amounted to a so-so actress with a decent singing voice. The very emotionally troubled Monroe unfortunately never realized her potential. Unlike Madonna, she was never able to parlay her sexuality into a vibrant business machine. Again, unlike Madonna ("Evita") and even Betty Davis, Marilyn was not able to bolt out of her sexuality and pursue meatier acting roles.
Frank Sinatra, like his idol Bing Crosby, used his VOICE as the "foundation" for his career then continued to evolve: Frank Sinatra's VOICE (more than his idol Bing Crosby) became the icon for "crooning" and, despite vocal problems his talent as a vocalist became unparalleled - Sinatra brought true emotion and unique phrasing to song interpretation - and he got better and better at it; unlike his best pal Sammy Davis, Jr. who was generally acknowledged during his life as "The World's Greatest Entertainer" because he really could do-it-all, Frank Sinatra (like Bing Crosby) had to learn how to dance; Frank Sinatra (like Bing Crosby) became an Academy Award winning actor but, unlike Bing, Sinatra evolved as an actor to take on meatier roles; like Marilyn, Frank Sinatra also had personal problems and, unlike Marilyn and Elvis, Sinatra nearly lost everything but came back stronger; as a counter-point to rock and roll Frank Sinatra single-handedly ushered in the 1950's "swing" movement; he established and defined the idea of the "concept" recording album; and Frank Sinatra was the first major recording artist to pull away from a major recording label and setup his own very successful music publishing and record company decades before Master P, Puffy Combs and the Artist (formerly known as Prince)!
Listed #3 - The Beatles
The Beatles had a phenomenal impact when they landed in the U.S. back in 1964. Elvis was essentially asleep-at-the-wheel wheel making formula movie after movie when The Beatles came in and eclipsed "The King of Rock and Roll".
But while Elvis was making "B" movies, while The Beatles were new to achieving chart position who won the Grammy for Best Solo Performance in 1965 and 1966? Who won the Grammy for Album of the Year in 1965 and 1966? Yep, Francis Albert Sinatra. Recently, TV Guide and MTV even picked Michael Jackson's "Thriller" as the best music video ever. No, way! The best music video EVER is Frank Sinatra's "The House I Live In" made in 1946 for which he received a Special Academy Award. Way before it became fashionable to advocate civil rights, even before he became pals with Sammy Davis, Jr., Frank Sinatra made a serious musical statement for ethnic equality. Let's not forget all throughout the 1940s, 1950s and early 1960s Black performers (Nat King Cole, Ella Fitzgerald, Duke Ellington, etc.) could not sleep in the same Las Vegas hotels where they performed, but Frank Sinatra refused to perform unless Sammy Davis, Jr. could sleep and perform in the same hotel. Frank Sinatra was a catalyst for change. Frank Sinatra openly and specifically acknowledged his admiration of Black performers like Billie Holiday. To this day, Little Richard is still trying to be recognized at the TRUE "King of Rock and Roll! Plus, unlike Elvis, Bing, Monroe, Ball or even the "socially and politically conscious" Beatles, in 1962 Frank Sinatra went on a world-wide concert tour - paying his own expenses together with those of his musicians and entourage - and raised over $1 million dollars for children's charities throughout the world. In fact, during his lifetime, Frank Sinatra, the man and performer, raised in excess of one billion dollars for various charities worldwide. And the Beatles? And Elvis? Frank Sinatra's philanthropic work is legendary and continues after his death through the Frank Sinatra Foundation. Clearly, TV Guide and those youngsters at MTV are obviously short on memory.
Listed #4 - Lucille Ball
Lucy had a mediocre and short lived film career but a legendary TV career, period. This is the extent of her legacy. Unlike Marilyn, Lucy's near legendary savvy as a business woman propelled the creation of her Desilu Studios which was the first home for the now legendary "Star Trek" TV and film franchise. Yet, even before Lucy, Bing Crosby established a template for success in film and television ("Hogan's Heroes," etc.) that is not only unmatched but sadly resulted in his four son's from his first marriage never having to work a day in their lives.
Frank Sinatra was not a comedian, Lucy was. However, Frank Sinatra also had televison shows and specials from the 1950s through the 1990s. Plus, Sinatra appeared in over sixty films which included nearly every conceivable genré: comedy, action, war, adventure, musicals, westerns, spy, drama, and period films. Lucy didn't. Like Lucy, and Bing Crosby, owning his own film production company gave Frank Sinatra a certain freedom and business savvy. Unlike Lucy, Elvis and Bing, Frank Sinatra applied his artistry diversely, as a performer and businessman. After acknowledging her business savvy, Lucy's individual artistry is limited to her icon status as a television comedian and, while significant, Carol Burnett is clearly an heir apparent. As the "King of Rock and Roll" Elvis' heir apparent is the self-titled "King of Pop" a.k.a. Michael Jackson. There is no heir apparent to Sinatra.
Listed #1 - Elvis Presley
Let's look now at Elvis. Frankly, Elvis' film career - not even in the league of three time Academy Award nominated and one-time Best Actor Bing Crosby - is easily dismissed. Let's acknowledge Elvis' musical accomplishments, his recording success. According to German owned BMG which owns Elvis' label RCA, it is estimated that Elvis has sold over one billion records worldwide, more than anyone else in the history of the record business. But when it's all said and done, what single recording artist has been the most prolific, produced more recordings and has more product available than anyone else. Elvis? No. Sinatra? Yes. What recording artist has consistently charted new material in the top 100 from the 1940s through the 2000s? Elvis? No. Francis Albert Sinatra? Yes.
What recording artist has a legendary list of composers and arrangers that reads like a who's who's list (Irving Berlin, Cahn and Van Heusen, Rodgers and Hart, Cole Porter, George and Ira Gershwin, Nelson Riddle, Gordon Jenkins, Billy May, etc.) of the best in recording history? Elvis? No. Sinatra? Again, of course! In the 1950s when record companies where putting pressure on recording artist to sing trendy, mediocre or "safe" songs of the day who held his guns and sang "his" music HIS WAY? Elvis? No. How can anyone ever forget Elvis Presley singing (broadcast from the waist up) "Hound Dog" to a actual "Hound Dog" on national television. In the early 1950s when confronted with his "dog" tune, "Mama Will Bark" Frank Sinatra ultimately told both his arranger, Mitch Miller, and Columbia, his record label, goodbye. At the time this was not a wise business decision but Sinatra consistently held high standards for the quality of his artistic product. Perceived as a rebel by some, Sinatra preferred quality over crap. Apparently, Elvis wasn't aware of or didn't learn from Sinatra's "dog" history. Elvis had phenomenal potential but, after his initial success in late 1950s, one can hardly call his musical output, particularly his musical film work during the 1960s, as high quality material. After his stint in the military, Elvis essentially lost his "edge", started playing it "safe" and ultimately, Elvis became his own "Golden Oldies Show" during the 1970s. Meanwhile, in 1973 at 58 years of age Sinatra came out of a nearly three year self-imposed retirement and went on to achieve even more chart success with "Ol' Blue Eyes Is Back" and later with the legendary "New York, New York". Elvis died August 16, 1977 fat and drugged.
Sinatra went on and pushed his musical envelope even further with "Trilogy: Past, Present & Future" and hit again with Quincy Jones' arrangement of "Mack The Knife" in 1984. Then, at 78 years of age, Frank Sinatra achieved even more artistic success while also pioneering a breakthrough in recording technology by successfully teaming with many contemporary artists of the day (Luther Vandross, Bono, Kenny G, Julio Iglesias, Barbra Streisand, etc.) in "Duets" from 1993 and "Duets II" in 1994. Despite health problems Frank Sinatra continued performing in concert, showing his strength and frailties, until a few years before his death on May 14, 1998.
True, Elvis was more than a mere flash in the pan, but how much more? Sadly, Elvis screwed-up and didn't complete his career arch. As hinted above, it's a terrible omission for TV Guide to overlook the career of Bing Crosby who, in his initial heyday from 1928 through 1934 was truly the very first major iconic multi-media star. For example, "Blue Hawaii" was originally a hit for Bing, then Sinatra and then, oh yeah, Elvis Presley! Crosby had an impact and, at the time, everyone wanted to sound like him, except a really skinny kid from Hoboken, New Jersey. So, TV Guide let's not put the cart before the horse. It's nearly impossible to ignore "Der Bingles'" impact each Christmas with the Irving Berlin penned masterpiece "White Christmas". Yet, where Crosby excelled Sinatra's career arch obliterated Crosby's achievements primarily through his individual artistry as a vocalist and the tenacity of his convictions to do it his way.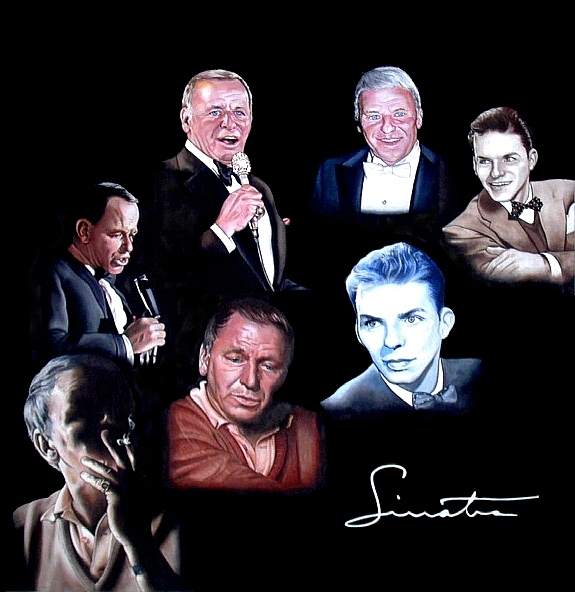 Entertainer of the Century? None other than, Frank Sinatra.
Sincerely,
Trip Reynolds