This film functions more as a female version of "The Dirty Dozen (1967)" than a rip-off of Sylvester Stallone's "The Expendables" film franchise.
It's really sad, very disappointing that even in 2014 women still can't get a fair shot in Hollywood, which is why we're left with this low-budget all-female caricature in response to the all-male "The Expendables 3" with its $90 million dollar budget. Tis. Tis. Tis.
The story? The daughter of the U.S. President, Elise, (Tiffany Panhilason), is kidnapped for ransom by the evil Ulrika (Brigitte Nielsen), one of five guerrilla leaders in a backwater Slavic country (the film was actually shot at various locations in California - Santa Clarita, Monterey Park, Saugus). Ulrika, who doesn't trust men, has Elise stashed at a womens prison. Since a male rescue squad would not easily enter the prison covertly, CIA agent-in-charge, Mona (Cynthia Rothrock) manipulates four highly trained but convicted women (Zoë Bell, Vivica A. Fox, Nicole Bilderback, and Kristanna Loken) to conduct a do-or-die mission to rescue Elise. The script immediately falls apart here because our "Mercenaries" abandon any attempt to enter the prison convertly - they confront Ulrika in broad daylight, fully armed and wearing combat gear, and enter the prison through subterfuge. Therefore, the "Mercenaries" could have been composed of a crew of men, or a blended group composed of men and women. Ultimately, it really doesn't matter, because you're not going to care about any of the characters in this film - the script is not crafted to prompt you to care.

As posted with my review of "Expendables 3," it's (also) easy to be critical about this film because it's so unnecessarily predictable. The bulk of the story involves martial arts-guns-explosions-and-unnecessary-derring-do, which is supplemented, of course, by more martial arts-guns-explosions-and-unnecessary-derring-do. Action for the sake of action becomes very boring, especially to the male-dominated demographics for which this film is targeted. Sadly, this film even lacks content to attract hormone-driven members of the male-dominated demographics looking for tits and ass, so common to 1980s and 1990s T&A films by Andy Sidaris (Hard Ticket To Hawaii). Women can do more than mirror men, they can be women!
This could have been a good film, really. "Mercenaries" began with animated page-turning close-ups of comic book panels that mirror action sequences in the film. This gave the film a Marvel-comics-like feel, even though up to this point the film lacked an "exhilarating" story, that was both dramatic and suspenseful. Plus, even though the film didn't have "believable" A-list actors, it was fair to give the film a chance and hope the script would provide these seasoned actresses something to work with. Unfortunately, that never happened. When the real "action" finally started, the potential to be at least a good film only fizzled into extremely predictable and stereotypical gun-play and a pseudo-lesbian encounter between Ulrika and Cassandra Clay (Zoë Bell). Except for one very brief semi-combative exchange between Vivica A. Fox, Cynthia Rothrock had no additional "action" sequences in this film. Bummer.
Without being sexist, dialogue shared between women is different than dialogue shared between men; not better or worse, just different. In addition to making women look like men, "Mercenaries" made women characters sound like men, which is ridiculous.

Christopher Ray, who directed this film, and Edward DeRuiter, who wrote the screenplay, would have done a much better job if they'd spent time studying the 1939 film, "The Women." This film uniquely featured an all female cast composed of many of the leading actresses of that generation. "The Women" was written by a woman, from the play by Clare Booth Luce, and a screenplay written by Anita Loos and Jane Murfin. The film wasn't "catty," and was a critical and financial success.

As far as the action is concerned, "Mercenaries" failed here also, because it provided action without suspense, action without a sense of impending danger, action without a "serious" threat for loss-of-life, action that wasn't graphic enough to be taken seriously. "Mercenaries" does not provide the kind of action faced by or delivered by Uma Thurman in "Kill Bill: Vol. 1 (2003)" and "Kill Bill: Vol. 2 (2004)."
Each of the lead actresses in this film have starred in leading roles in their own "action" films, which are collectively better than "Mercenaries." Artistically, the most creative aspect of this film is the animated page-turning close-ups of comic book panels that began the film. The best camera shots involved stunts associated with Vivica A. Fox (performed by Petra Sprecher) and Zoë Bell. Film editing by Maureen Murphy and Bobby K. Richardson was generally sluggish, which doesn't speak well for a film lasting only 89 minutes. Film would have been better is edited down to 43 minutes and pitched as a pilot for a weekly SPIKE-TV television show. Set decoration by Fernando Valdes lacked realism.
Recommendation: Again, each of the lead actresses in this film have starred in leading roles in their own "action" films, so see those films instead, especially those starring Cynthia Rothrock. Although "The Women" (1939) contained no martial arts-guns-explosions-and-unnecessary-derring-do, nevertheless, it has an exhilarating, dramatic, and suspenseful story, and more "cerebal" action than provided by "Mercenaries." So, buy or rent, "The Women." Although not as good as the original, the 2008 remake, "The Women" is also better than "Mercenaries." Or, if you're looking for mindless T&A with fake martial arts-guns-explosions-and-unnecessary-derring-do, go to Walmart, look in the $5.00 bin, and buy the Andy Sidaris 12 film set, "Bullets, Bombs, and Babes," which is also known as Girls, Guns and G-Strings: The Andy Sidaris Collection at Amazon.com or at andysidaris.com.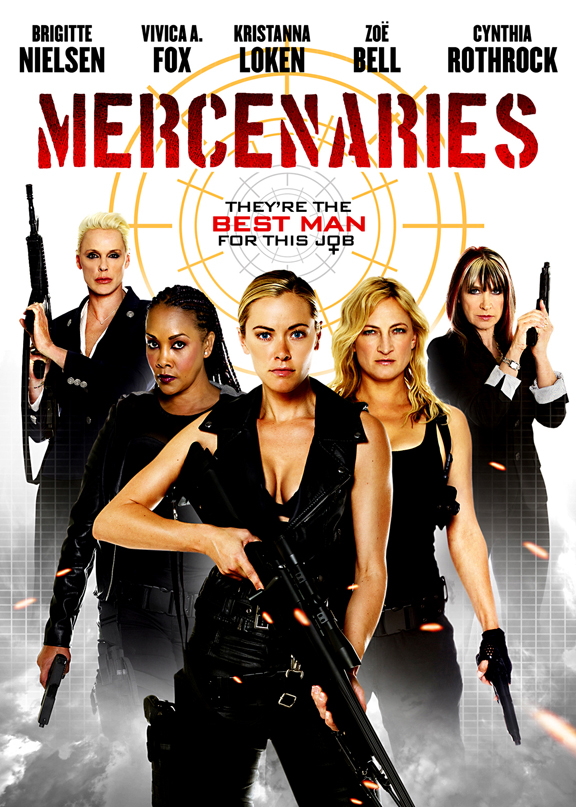 VERSUS


The ExpendaBelles? According to online gossip, the (2016?) film will be produced by Sylvester Stallone and Kevin King. The proposed roster of female stars include Milla Jovovich, Meryl Streep, Pam Grier, Cameron Diaz, Angelina Jolie, Kate Beckinsale, Sandra Bullock, Michelle Yeoh, Rhona Mitra, Chloe Moretz, Sigourney Weaver, Linda Hamilton, Halle Berry, Carrie-Anne Moss, Geena Davis, Lucy Lawless, Katie Sackhoff, Angela Bassett, Jennifer Garner, Uma Thurman, Michelle Rodriguez, Margaret "Maggie Q" Quigley, Lucy Liu, Gina Carano, Sharon Stone and Stallone's ex-wife, Brigitte Nielsen. Missing from this list is Kristanna Loken, Zoë Bell, Nicole Bilderback, Summer Glau, Jamie Lee Curtis, Ming-Na Wen, Helen Mirren, Daryl Hannah, Salma Hayek, Demi Moore, Judi Dench and a host of female action stars from Hong Kong, Japan, Korea, Thailand, and China, such as Zhang Ziyi, Yanin "JeeJa" Vismitananda, Elodie Yung, Meiko Kaji, Eihi Shiina, Yeong-ae Lee, and the legendary Angela Mao.

Let's hope Stallone gets it right, and produces and writes a great film!